I haven't written a blog since the big reveal and I've noticed a few observations among Nova fans;
First, somehow there are some vocal fans still pissed off and angry (Timelord is one of them, who is a friend and opinion I value, he wrote this piece for CBN here) Let me say I very much disagree with this stance, though of course there are some decent points and concerns raised.
Let me recap some of the developments of the 2nd half of CY2016:
-Richard Rider is back. We get a new Nova series.
-Bendis is off GOTG.
-Nicole Pearlman, one of the good "gals" is writing a Gamora series. (Most reports have her as having included RR in the MCU in her original script for GOTG)
-Jeff Lemire is a solid writer who is writing Thanos.
-Al Ewing's Ultimate's is frankly intriguing. He is really growing in "cosmic" competence and something to be valued.
-IDW Has both Rom and Micronauts .… that's pretty cool.
I mean, man, we've been looking hopeless for so long, where it looked like years would go by and no Rich, and some fans actually are griping about minor stuff? There looked like there was a freakin' conspiracy at one point. (And I still think there was) Bendis basically said the character would not be used again and now here we are.
I bring up this old line from a past blog entry:
Not to lecture everyone, but again, if this does turn out in our favor, we should be happy and proud of it and not unreasonable. It's the end of a long road. Honestly, we should act classy and even a bit thankfull/grateful to Marvel….I'm not saying I regret anything I said or did during this process and will not say that, but bringing back Rich was what it was all about. I'm going to keep my promise and buy Marvel comics again. As I've always said; I love Marvel Comics and sure as hell, I want to support them.
On this matter, let me re-link this past blog here.
If this is Rich Rider, we should prepare for some initial disappointment and yet still be open to accepting this for a while. In other words, we should give this a chance and keep expectations low. Sure , they're going to fuck something up. Whether its established continuity, the creative team, characterization or some other detail here or there, I can bet Marvel will jack up something and aspects of any series will not be to some of our standards. Let's remember, even Annihilation jacked up stuff. (like show Rich as a cherry recruit when he had been Nova Prime before!) How furious were Rich fans when he was Kid Nova and wearing a damned red ascot in FabNic's New Warriors volume one? Those things worked themselves all out.
One of the main points I made in that piece was to be prepared for some disappointment. We probably won't get everything we want….that's just how it goes. So does life.
It's no secret, I don't like Sam /NINO. He's been NINO so far meaning…"Nova in Name Only"… but I never said I needed the character dead or thrown away. (Um…er…ok maybe I did once or twice) The worst part about Sam (among many many bad or annoying parts) was that his presence seemed to preclude the revival of Rich. Now that's out the window and Sam is just another Nova character. I guess I can be cool with that. At least, enough to take a look as to what comes next.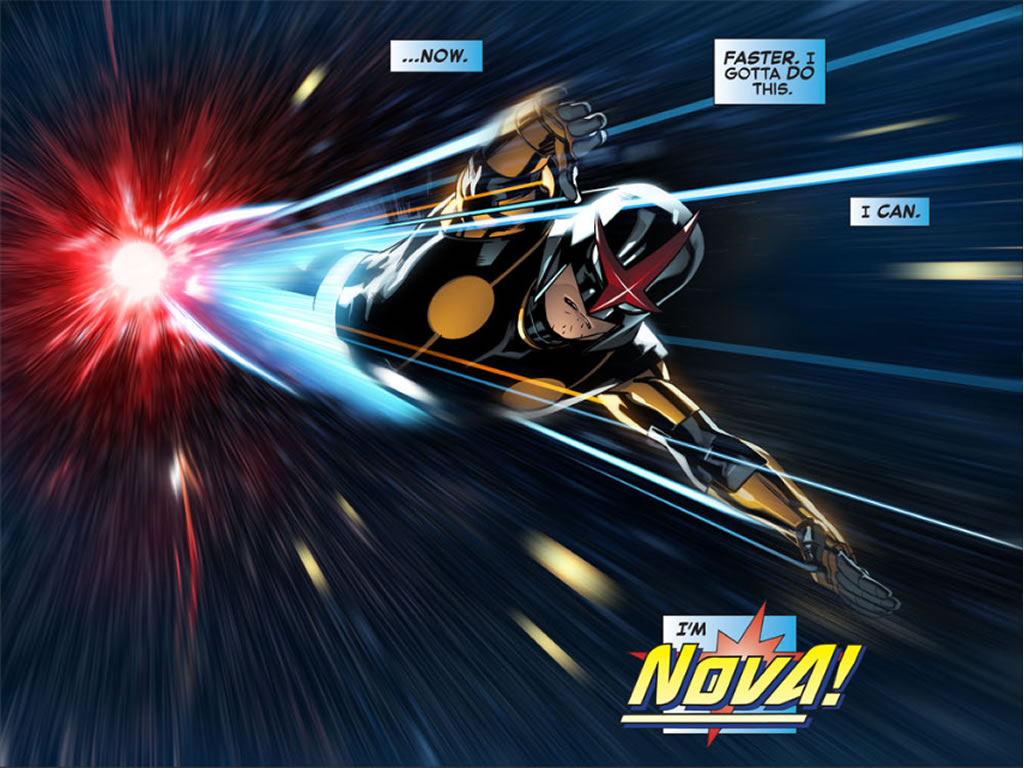 Admittedly, Sam does have fans of his own. (Not many though, sales are down to 14k) Some of that crew are first class pricks and antagonizers. Some are nice, well-meaning folks and even kids as well. Whatever "crimes" of character assassination occurred in the past, I don't want to see their favorite character thrown in the dumpster either, at least not without a good attempt to fix the character. This was what I recently had to say about Sam:
A word about Sam Alexander: In many ways, there was nothing wrong with the notion of Sam or a young brash Nova figure. There was nothing wrong with many of the broader ideas the Sam material wanted to do. Truthfully, the Black Nova concept was a solid idea that I had high hopes for. Instead, what was wrong was the execution. All of those ideas of mine regarding what went wrong there have been laid out on this blog. As we move forward, surprisingly…I am up for Sam Alexander…but dammit, the character needs to be fixed. With Rich back, for once, I'm hopeful we can see that happen.
Yet some of us, sorry to not pull punches here, are frankly delusional about some of our fears. Even with all things considered, there is no cause (yet) to organize some angry fan push about stuff we don't know about. We weren't entitled to win this battle. We fought. They pushed back. Years went by. (Darn it I have five year old daughter who was born after Rich was killed off!) Everyone compromised and now it's time to shake hands and move on with the next chapter. If the new era stinks, then we can all bitch about it.
The worst aspect is that there's little hard evidence out there for much of the specific paranoia going around. Some of these thoughts I've heard include the following:
-Sam will be more featured in this new book than Rich.
Frankly, the solicit Mentions "Classified" the most….and though I voiced my displeasure with this, it's very reasonable to assume this was done to add some suspense to Nova # 11 and the big reveal. "Classified" is clearly Richard Rider now. Prior to the Rich Rider returns splash page, the writer said Rich Rider was a big part of Nova going forward. That means a big part.
-Rich is a ghost and not real.
No evidence he is a ghost. He said "Mom, I'm Back" at the end of the issue. RR looked real enough to me…no ghost would wear blue jeans like that. The rays of light at the end I took to mean a metaphor for a new dawn…which is something hopeful. The rising sun was also shown when Sam and Rich shook hands.
-Rich is going to be a sidekick.
-Sam will dominate the book and Rich will be just some goof.
In fact, Marvel has toned down its pushing of Sam. Outside his role in Champions, he's mostly gone from USM cartoon, Disney Infinity is kaput and his solo books have clearly been deprioritized by Marvel in terms of A-list creative teams.
-The book will be a comedy romp. (Ok there is some evidence of this, but it's marginal EDIT: OK the book IS going to be a comedy romp, "based on nextwave" groan…)
Don't get me wrong, I don't know what to expect from Loveness. I do know that he's written less than 10 Marvel comics.. That's not enough to define him. Folks seem to have dug his Groot run. Even if he does mix in solid humor, Keith Giffen was heavy into humor and comedy related books. Ever read Ambush Bug, Lobo, Trencher or JLI/E? Blue Beetle and Booster Gold anyone?
As I've shown, Perez actually has worked on Sci Fi before, and has some nice lines. He's also written stuff and may team up with Loveness.
Yeah, I get it. Marvel is crazy right now. The books are mostly not good….the editorial spirit pushes stuff into this whole left of center political stuff that really does not interest me.( I mean Occupy Avengers? Give me a fucking break) Just look at this blog and the thoughts. I don't take back anything. Again, we have cause to be wary.
We may be "angry fans", however, but we need to be credible and reasonable as well. Marvel won't ever try to listen to us if we just hate everything and want "our way or the highway" without the ability to compromise. This was about bringing back Richard Rider. We get that, and I for one am going to give Marvel my business again. (At least for now) We need to be fans who love Marvel as well.
Some of the paranoia and demands are crazy; "Flesh and Blood Rider or nothing" was one I heard…yeah, as if Rider merging with Worldmind has not happened before. I mean, didn't that start our beloved Annihilation arc? As if it couldn't go the other way.
Like it or not, Rich turned into pure energy when he died. He merged with the Nova Force and a broken cosmic cube…we already saw that, ergo…it would be logical that he may be in some energy form. I'm fine with that.
I want to link a portion of what I said in another post (On NMB) about a few other past moments that many fans were disappointed or jumpy:
I'm not sure where things changed and we needed Sam Alexander to be killed off as well. This was about Rich. I'm open to new things as well…Annihilation and Giffen's stuff was new things. The New Warriors were new things….etc..

Let's just take a refresher on a couple simple points:

Annihilation happened in a real down point for me in Marvel lore. I hated Civil War, thought the whole line was shot and despised the crude antics of then EiC Joe Quesada. Starlin leaves Marvel in anger. Then I see Nova used in the dreadful Skottie Young stuff…the New Warriors killed off….horrid. Right away the Nova series is written by "unremarkable" journeymen comic writers who came from DC…and there was weird stuff right away. Scott Kollins art looked weird, Richard Rider was being treated like a cherry newbie, and they brought back Xandar again? They kill off Quasar! But yeah…that worked out.

Not to mention RR during during Fabnic ("PC") New Warriors book with some cheesy skateboarding black version of Batman…calling him "Kid Nova", dreadful costumes each week, (was that an ascot?) ham fisting some excuse where he still had his powers, and basically running around and avoiding any tie in to Wolfman Nova Volume 1 storylines for years. Recall how long it was till they even went into Xandar and the Corps.

Then there was Sam. I was receptive to check it out. Frankly, there was a lot that looked good right away. I mean remember how they tricked us with Diamondhead and Terrax? Turns out, it stunk. The crowd screaming for boycotts and rejections like TL were right…however I don't regret for one instant that I held a wait and see attitude and at least tried it out. I don't have any regrets about coming to the same conclusion reasonably.
Yeah, I know….Marvel is not perfect. They can't seem to put the new continuity in any solid framework. Nova has sloughed off plot after plot into vapid finishes. The helmets are not the power source…yep.  Loveness is a lower tier writer. DnA… Giffen…all gone. Sam Alexander will be a big part of it. Not Annihilation III…I agree….like I said we have reason to be tepid. But maybe, just maybe there is enough here to tune in once more and be proud that our voice brought back something we enjoy. Ramon Perez is a talented guy. Frankly, I'm excited to see what Marvel does next.
Rich Rider is back folks…and though maybe this will all turn out to be lousy, for now I'm happy, grateful and excited for a new day.
Looking forward to doing some reviews again and talking story. I'm planning to sample Pearlman's Gamora and Lemire's Thanos as well….with a wait and see attitude on whatever new cooks up for GOTG.
LLRR