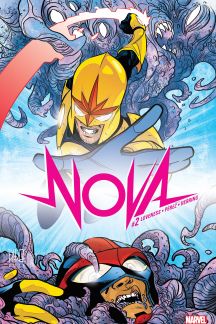 Just a short review for this comic, one of the best Nova books in years and years.
Rich is being handled wonderfully, the dialogue is spot on, well researched and enjoyable.
Thoughts:
-What can I say, Knowhere, Cosmo reunion and "I think they remember" bar scene…very touching and well-done. The kinda moment we sure needed!
-This is a denser comic than issue #1 with more reading and events. For a comic these days, its worth the cover price.
-Rich being mad about heroes fighting is SO Rich. As was the Champions back and forth with Ms. Marvel.
-Last issue, I was somewhat critical of Sam's mom somehow being wayyy more "latino" than she was in past depictions, at least I made the observation. That notion is cranked up even more in issue #2 and let me say, it was instead very well done and rich. The result was very warm, real, and showed the strength of community and family of Sam.
It's really wonderful to see the positives of Latino neighborhoods/community depicted rather than the usual tropes. This felt like the real AZ 2017, not some back set from an old 50's movie like Loeb designed. Loveness and Perez are 100% able to show the richness of the cultural and the warmth of the positive rather than the generic and token stereotypes. In a few panels they both prove themselves 100 x the writers of Joe Loeb, and 100 x the empaths and researchers.
-From a guy who wasn't a big Sam fan, this comic is already excelling at reproaching the character. These are the kind of things that make Sam "real" and not a Peter Parker or Robbie Reyes rip off.
A few other notes:
-Rich Rider bioscan folks…yeah "Flesh and Blood Rider or nothing" crowd there you go….
-Rich floppy helmet! Yes, that is research!
-Loved the shout out to the Rich Rider fans /internet/ forums, thank you Jeff and Ramon. Keep writing books like this and you'll have our passion as well!
-The art began to really grow on me. Perez masters alien life and the organic play of the pencil, I was unsure of it at first, but I'm in to it now.
-Loved the aliens at the end. I'm not sure, but that almost looks like some class of Death's head. Loved Titus being back (or at least someone from his species), he had a really good design. We need more cyborg tiger folks out there.
-Dialogue was a bit herky jerky in a couple parts, but was a stylistic choice of frenetic back and forth between Sam and Rich. I eventually zoned into what Loveness was going for, and it mostly worked.
-Reading this issue I almost think like Jeff and Ramon read my blog here and decided to listen and act. I know that's crazy, but that's at least how I felt.
-Clearly more Cancerverse mysteries….both the "fib" he tells Sam and the goo left at Sam's home.
9/10 (Probably would have been a 10/10 if it was a arc tie up issue or such)
Keep it Jeff and Ramon, great stuff so far!